A couple weekends ago, a group from church helped our friends move apartments.  During the numerous trips, I noticed decorations at doors that I passed – plants, door hangings and welcome mats.  One doormat caught my eye – a Welcome / Goodbye mat.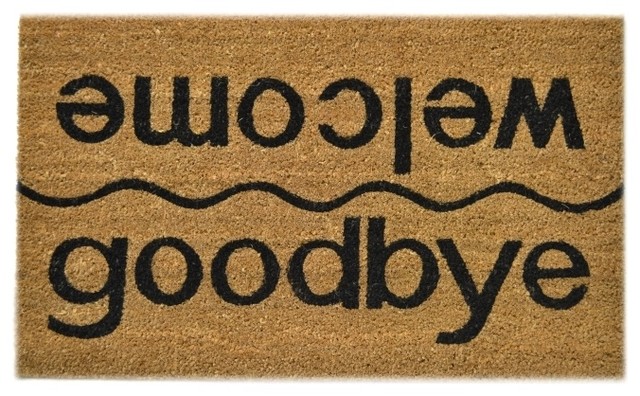 Depending on whether you going inside or out, the mat greeted you a certain way. The reason it caught my attention was that it was "backwards." Typically it says Welcome as you get ready to go inside and goodbye as you enter the outside world.
But this mat was reversed.
Why did this bother me?
Probably because I value rules, order, tradition and the like. But that was not a good enough answer for me.
So, I thought about it more. What if it wasn't ~backwards~ as I saw it? The "Welcome" as one leaves their living space could be ushering in a new day. A chance to start new, to connect with people, to welcome an adventure. Honestly, that sounds like a great attitude to take as I head out the door.
But what about the Goodbye as I return?  That doesn't make sense. But it can.
Goodbye to the stress from the work day.  Goodbye to any drama amongst co-workers.  Goodbye to all of the "shoulds" and "musts" and "need to" from outside. Goodbye to all of that as I enter my place.
May that mat continue to make consider how I enter spaces.  Looking for the adventure expectantly and simply laying down stress and worry in order to be.